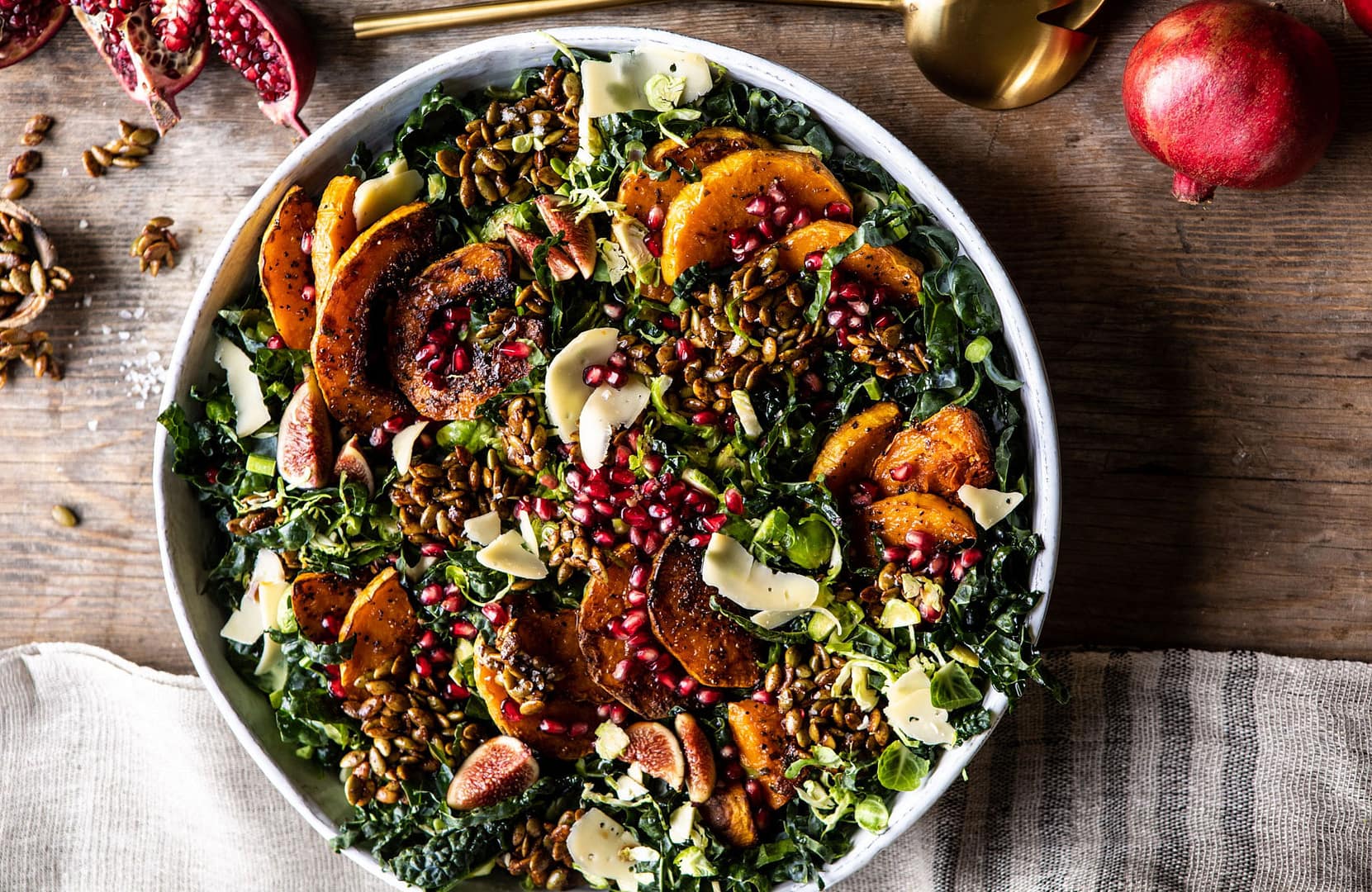 Fall Harvest Salad
Dive into this super vibrant and oh-so-healthy salad that's just bursting with all the fab flavors of fall! Think roasted delicata squash, super crunchy apples, and cute little pumpkin seeds. And guess what? The apple cider Dijon dressing is like a little magic potion that ties everything together with its sweet and zesty vibes. It's the ultimate dish to celebrate the season and make your tummy super happy! ????
Ingredients
Salad
1 delicata squash, halved lengthwise, seeded, and cut into 1-inch pieces
1 pound Brussels sprouts, outer leaves and stems removed, halved lengthwise
3 tablespoons olive oil, divided
4 tablespoons McCormick® Salad Supreme seasoning, divided
2 boneless, skinless chicken breasts
1 head of green leaf lettuce, sliced into 1-inch strips
1 bunch of lacinato kale, ribs removed and sliced into 1-inch pieces
1 red apple, cored and diced
¼ cup toasted pumpkin seeds
½ cup candied pecans or walnuts, roughly chopped
⅓ cup pomegranate seeds
Dressing
2 tablespoons apple cider vinegar
1 tablespoon Dijon mustard
1 teaspoon McCormick® Salad Supreme seasoning
½ cup extra-virgin olive oil
Instructions
Preheat the oven to 400°F (200°C).
In a large bowl, toss the delicata squash and Brussels sprouts with 1½ tablespoons olive oil and 2 tablespoons Salad Supreme seasoning until well coated.
On a rimmed baking sheet, drizzle the chicken breasts on both sides with the remaining 1½ tablespoons olive oil and season all over with the remaining 2 tablespoons Salad Supreme seasoning. Place the chicken breasts in the center of the baking sheet and arrange the squash and Brussels sprouts all around, turning the Brussels sprouts cut-side down.
Bake for 25–30 minutes, or until the internal temperature of the chicken reaches 165°F (75°C) and the vegetables are tender and browned. Remove from the oven and let cool completely, 10–15 minutes.
While the chicken and vegetables cook, make the dressing: In a resealable jar, combine the apple cider vinegar, maple syrup, mustard, Salad Supreme seasoning, and olive oil. Cover the jar and shake vigorously until the dressing is emulsified.
Chop the chicken into 1-inch pieces, then add to a large bowl with the roasted vegetables, lettuce, kale, pomegranate seeds, apple, pumpkin seeds, and candied pecans. Drizzle with some of the dressing and toss well.
Serve with the remaining dressing alongside.
Enjoy!